Prime Suspects, derived from New Image band, who has been performing for many years. Originally from a gospel go-go band, "Spiritual Youngins", in 1998. Prime Suspects perform a variety of music, including, hip-hop, reggae, jazz, r&b, rap, dance, contemporary, and gospel. A professional band who performs what their audience wants to hear!

Prime Suspects have released several pa tapes, and more recently released the new cd, "P.G.'s Most Wanted".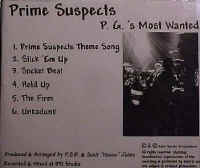 Prime Suspects have performed with many of the best go-go bands in the industry. They are rising to the top of the industry, and with the fans support, their rise will continue.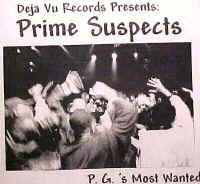 We are one of the best up and coming bands in the Washington, D.C. metropolitan area. Prime Suspects have performed with the Northeast Groover, Junkyard Band, Black Impressions, Fatal Attraction, Indecent Xposure, Elevation Band, Top Notch, UGB, Jigga, Publicity, Aftermath, Rockefella, Conspiracy, High Intensity, and Prophecy.
Prime Suspects will perform at house parties, cabarets, and clubs.